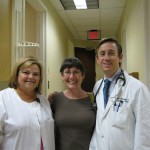 Hi guys, friends, rowmans, countrywomen, etc……
I just returned from the doctor's office, and I received a CLEAN bill of health.  Yes, you heard it folks…I am cancer "free."  I have been given the ned status (no evidence of disease).
I am going in next Friday to meet with the genetic counselor, and to be tested for breast cancer markers.  It is always something, isn't it.  It seems that now, as an ovarian cancer survivor, I am more likely to get breast cancer – particularly if I am positive for the markers.  I think I will just hang on to the current news for now.
My thanks and blessings go out to ALL of you.  You have truly traveled with me on this journey, and I am eternally grateful.  Your love and support has carried me through.  Thank you, thank you, thank you.
I love all of you.
Peri
**check out some new pics!