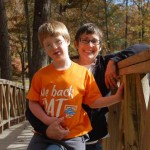 I have been meaning to check in sooner.  Having Clayton home for the week was a busy time.
George and EK (and Donna & Gordon) had a blast in Disney World!…a whirlwind of an adventure.  It was perfectly awesome, and all were glad to be home.
Clayton's and my week included the overnight to Village Creek, riding the trolley, riding the carousel, having a play date with a school friend, getting a hair cut in a "salon!", and going to Nacome church family camp.  I have included pictures.  (Sorry, no pictures yet from the Disney trip).
As for me, I am tired!!!  These weeks following chemo were very busy.  All three children took a turn getting sick, fall breaks, travel, etc.  Gratefully I have not been sick.  Go figure.  Yet in these busy times, sweet angels swept in to my rescue….bringing meals, sending cards, phoning me to lift my spirits, getting me out a bit.  Saralene even kept George for Nacome weekend.  Yes, having packed everything but the kitchen sink, I picked up the children ready to leave and George had a 103 temp – the second time he has been sick this month

.  Gordon was out of town, and would be meeting us there.  George had to miss camp, but Grandy doted on him making it a "special" weekend.
My next chemo is scheduled for November 2 – so far, so good.
The best news is that we had a house showing today!  It has been weeks, and I was starting to become disheartened.
I ask for your prayers.  I pray that God lead our family and keep us mindful of His will.  I pray that we remain patient and courageous.  I pray that God protect us and shine His light upon us.  I pray that I maintain gratitude and humility, for the bountiful gifts we continue to receive.
I love each and everyone of you so much.  I pray that you have love and peace in your heart as you live your journey too.  I am glad that we are connected, and a part of one another.
Gratefully yours,
Peri