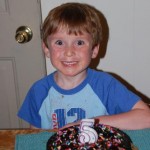 Time passes by.  I continue to feel okay, and take it day by day.  I find myself sometimes living in surreal time.  It is strange to be in a kind of limbo…waiting for "something," yet waiting for nothing.  There is no plan, no boundary.  I have cancer but to what degree?  to what end?  We do plan to move, but when? where?  The puzzle is not complete, yet there are pieces are on the table.
Therefore, I choose to live daily.  Some mornings I am on the top of the world, reveling in God's light and beauty.  Each person I meet is a gift.  I easily follow a path of service and gratitude.  Other mornings, I feel lost and unable to put one foot in front of the other.  I pray, mindful of the fact that each day requires minimal "duties."  I concentrate on the needs of my children, household, and try to do just the necessities.  These days are tough, but still, I am able to move through them.
Chemo is not knocking me down.  It does slow me and fatigue me, resulting in feeling burdened.  This is where I find my greatest strength…my friends and family.  So many of you have reached out to me and I am so lucky to have you.  A hug, a call, a text, a journal entry, a meal, a household chore…each small act reminding me that God is so good, and reminding me how truly blessed I am.
This weekend I took Taylor to Chattanooga to pick up some belongings left behind.  She and I had a wonderful time 1:1.  The drive was really pretty, and I so enjoy her company.  It was a long trip for two days, and this week I am tired.  Gordon left Monday morning and I miss him already.
Today, George turned 5.  WOW!!! As I said…Time passes by, much too quickly I might add.  And as said, I choose to live daily.  George is so cute!  It was a good day.  I took donuts to the school.  Grandy and Missy stopped by and brought gifts.  My friend Karen brought dinner and stayed to eat.  It was great food and great company.  She brought gifts and stayed to play Uno.  We had a blast and it really lifted my spirits.
I stay strong knowing that you are praying for me and holding me tight.
Several years ago, I prayed over Jodi Fryling when she left for Afghanistan.  I searched for the perfect scripture and this spoke to me then.  In my present circumstances, it still speaks to me now.
Habakkuk 3:18-19 
…yet I will rejoice in the Lord, I will be joyful in God my Savior. The Sovereign Lord is my strength;  he makes my feet like the feet of a deer, he enables me to tread on the heights.  For the director of music. On my stringed instruments.Much love to you all!!!
Peri
**check out the pics!